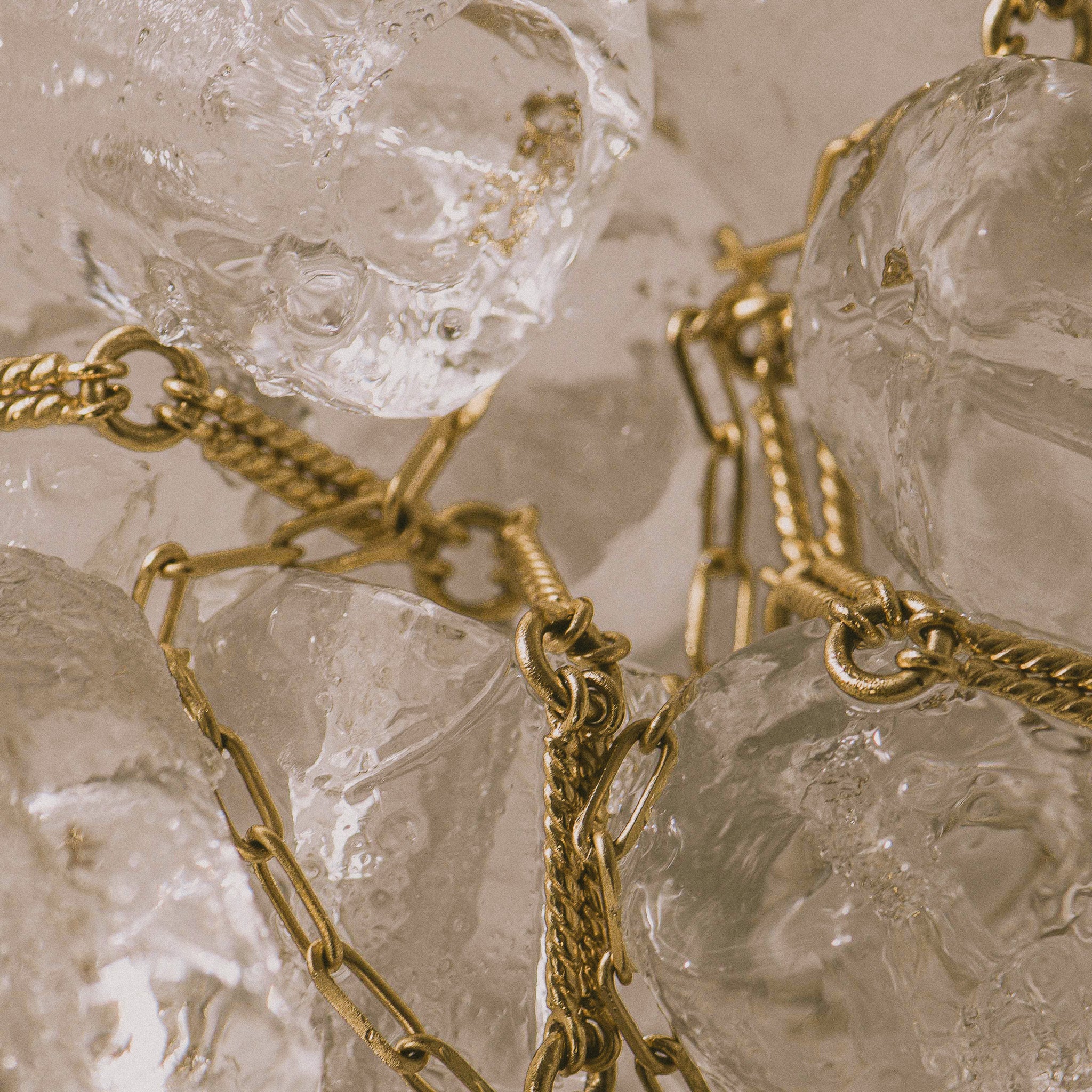 The essential summer jewelry to complete your summer outfit
Summer is often synonymous with renewal, adventure and, of course, fashion. As the sun brightens our days and summer outfits make their appearance, a question arises: how to enhance these light and colorful outfits? The answer often lies in the choice of summer jewelry . These accessories, although subtle, have the power to transform a simple outfit into a chic and refined ensemble. Whether it's a barbecue with friends, a day at the beach or an evening on the terrace, summer jewelry is the accomplice of all your highlights of the season. Let's discover together this summer's must-have trends.
Earrings: The stars of summer
Earrings have always had this gift of captivating the eye, of adding that final touch that enhances a hairstyle or highlights the way the head looks. For this summer, trends are bringing us back to models that are both chic and relaxed.
Creoles, a timeless classic
Timeless and universal, hoop earrings have crossed the ages, cultures and fashions without ever losing their splendor. This season, they are adorned with delicate details: small pendants, pearls or even summer patterns. Whether large or small, in gold or silver, they are the perfect complement to any style, from the most sober to the most extravagant. For what ? Because their roundness evokes the sun, and their movement recalls the gentle summer breeze.
Pearl earrings, for a seaside vibe
Nothing says summer more than pearls. These ocean treasures are transformed into beautiful earrings that recall days spent on the warm sand. Combining nature and elegance, these summer jewelry bring a bohemian touch to your look. Paired with a flowing dress or even a simple tank top, they instantly transport you to vacation.
Bracelets: Brighten up your wrists
Bracelets have this ability to add a certain effortless elegance to any outfit. The possibilities are endless, from a simple bangle to an embellished cuff. And this summer, the watchword is diversity and subtlety.
Bangle bracelets for a subtle shine
The bangle bracelet is this discreet piece which, worn alone, brings flawless elegance to a bare wrist. In gold, silver or decorated with small stones, it shines brightly under the rays of the sun. For lovers of layering, superimposing several rushes of different sizes or textures is the trend to adopt. This is the opportunity to play with shapes, colors, and add your own touch to this timeless summer jewelry trend.
Anklets, a must for the beach
Long relegated to the background, ankle bracelets are making a comeback. Whether it's a simple gold chain or a model adorned with charms, they enhance your feet, whether they're bare on the sand or highlighted by a pair of sandals. For the more daring, models with precious or semi-precious stones will bring a luxurious touch to your summer outfit.
Necklaces: From the beach to a romantic dinner
The neck is often one of the first parts of the body that we notice. It therefore deserves to be adorned with jewelry that reflects your personality while being in line with current trends.
Multi-row necklaces for a bohemian look
Multi-strand necklaces are the key piece of summer. Combining several chains of different lengths and styles, they offer a bohemian and relaxed dimension. The trick is to mix textures and styles: a thin chain with a pendant, a beaded chain, a thicker chain... The goal is to create volume and texture for the perfect summer look.
Pendants in the shape of the sun or the sea, the icons of summer
Summer symbols such as the sun, the sea, or shells are essential summer jewelry. These pendants bring a touch of freshness and recall sweet moments spent at the beach or by the sea. Combined with a delicate chain, they can be worn alone for a refined look or combined with other necklaces for a more elaborate style .
Hair jewelry: The finishing touch for a summer hairstyle
Summer, with its casual hairstyles, is the ideal time to embellish your hair with original jewelry. These accessories, often neglected the rest of the year, become the star of summer evenings and sunny afternoons.
Barrettes decorated with pearls or shells
The marine influence is also felt in hair accessories. Barrettes adorned with pearls or shells bring a sophisticated and delicate touch to any hairstyle. They are perfect for holding back a flyaway strand or for decorating a braid. With their natural shine, they capture the light and highlight the face.
Flower crowns for summer evenings
For those who dream of romance and sweetness, flower crowns are the ideal accessory. Combining nature and femininity, they give a bohemian and rural air to any outfit. Whether discreet or more imposing, they recall sweet summer evenings spent under the stars.
How to choose and match your summer jewelry?
Summer is the season for style experimentation. But to avoid missteps and guarantee perfect harmony, there are a few tips to follow.
Consider the color and style of the outfit
Before choosing your jewelry, take a look at your outfit. Is it colorful or sober? Classic or bohemian? Your jewelry should complement your style, not clash with it. For example, with a flowing and colorful dress, opt for discreet jewelry. If your outfit is more sober, this is the opportunity to bring out statement pieces.
The "Less is More" rule to avoid overload
Even though summer encourages fantasy, it's sometimes good to remember that simplicity has charm. If you opt for large earrings, avoid the imposing necklace. The idea is to create a balance to highlight each piece.
Express your personality with summer jewelry
Summer is a time of light, renewal, and self-expression. Each accessory, each piece of jewelry chosen to perfect your outfit is an extension of your personality. Summer jewelry is those little details that make all the difference, transforming a basic outfit into an elegant and trendy ensemble. So, while the hot season is in full swing, don't hesitate to adorn your skin with these sparkling treasures, reflections of your soul and your style. Express yourself, be bold, and let your jewelry tell your summer story.