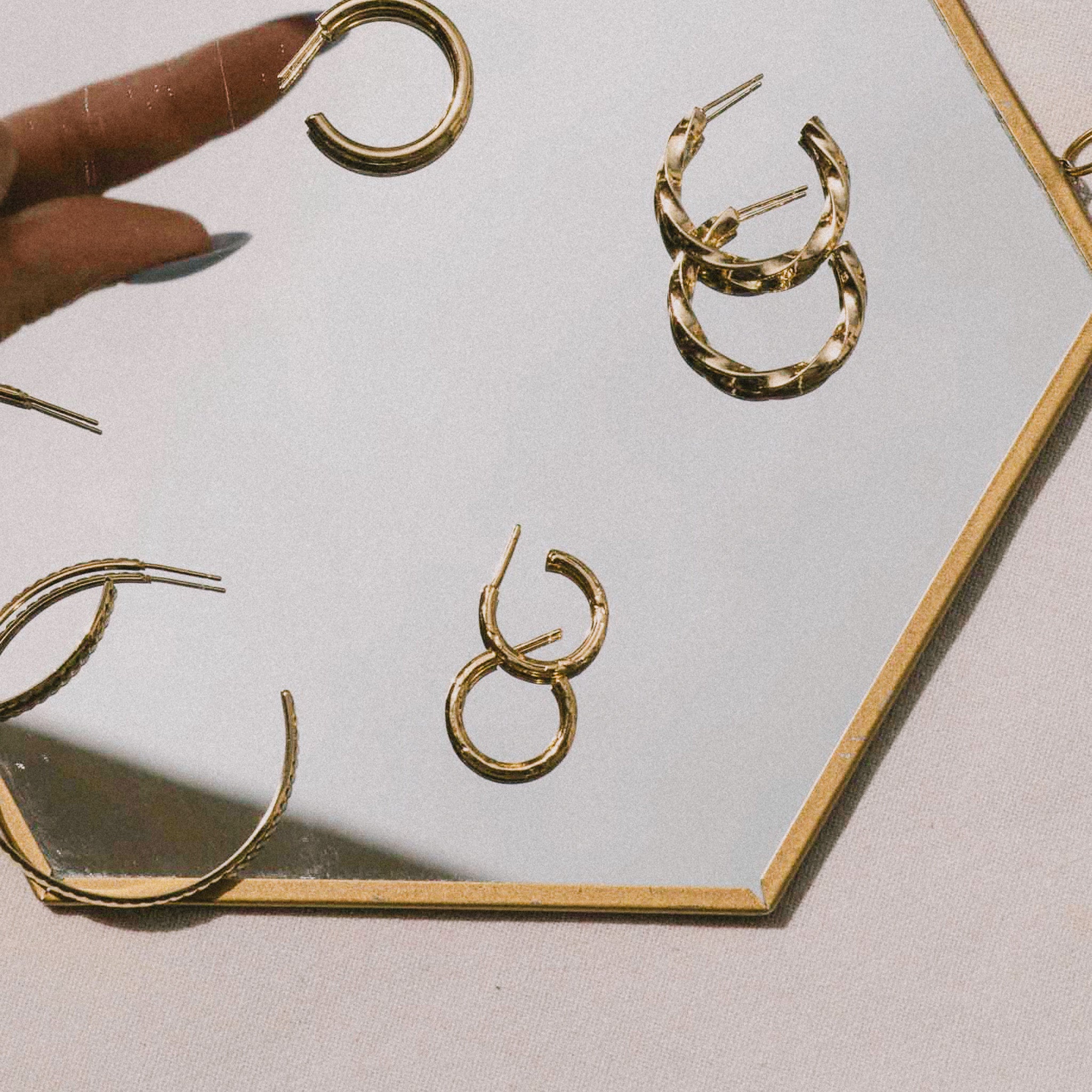 Gold earrings: our must-haves for summer
Summer, the season for gold earrings
Summer has arrived and with it, the desire to shine. What better way to complete this picture than to shine under the sun with gold earrings? This season, as the sun bathes our skin in golden light, our ears deserve to catch that summer glow too. The effect of gold earrings, reflecting the sunlight, is simply breathtaking and perfectly completes the summer outfit.
Hoop earrings: the timeless classic
Ah, the Creoles! They evoke memories of summers past, moments on the beach, cocktails by the pool. These quintessential summer earrings remain a timeless choice. Whether delicate or bold, simple or elaborate, they add a touch of glamor to any summer outfit. And when they are gold, their shine goes wonderfully with the warm shades of summer.
Dangling earrings: the sparkle of movement
Imagine yourself walking along the promenade, a light sea breeze making your dangling earrings dance. These jewels, with their subtle movement, capture the summer light with every step, every gesture. Whether it's a simple design or adorned with intricate patterns, their ability to reflect light is unmatched. For summer evenings, pair them with a flowing dress for a simply hypnotizing effect.
Our dangling earrings for summer
Minimalist earrings: simplicity and elegance
Summer is also the time for refined, light and airy outfits. With this in mind, minimalist gold earrings are the perfect choice. Their simple, refined design goes with everything from bikinis to evening dresses. This season, let your lobes shine with understated elegance with these golden treasures.
Earrings with colored stones: a festival of colors
Sunny summer days call for a burst of color. Gold earrings adorned with colored stones are an invitation to party. Turquoise to evoke the ocean, coral to recall the nuances of the sunset, or emerald for a touch of luxury: each stone brings its unique note. Dare to use color and let your ears be the center of attention.
Our fine stone earrings for summer
How to choose your earrings for summer?
The key to choosing the right earrings is to listen to your instincts while taking into account your body shape and style. Earrings should reflect your personality while highlighting your face. Also think about maintenance: gold requires special care, especially when exposed to salt, chlorine or sunscreen. A little regular cleaning will ensure that your earrings continue to shine all summer long.
A golden season awaits you
Gold earrings are more than just an accessory; they are the reflection of unforgettable moments, of sunny days and starry evenings. By choosing the right earrings for this summer, you will ensure that you shine brightly. So, whether you're a fan of hoop earrings, a fan of dangling styles, or a lover of minimalism, summer is your canvas to express your style and individuality. It's time to let summer gold earrings speak for themselves, reflect the light, add sparkle to every moment and celebrate the beauty of the season. Opt for pieces that reflect you, that tell a story and, above all, make you feel beautiful and confident.